Analyze Native Email File Formats
File: The File tab shows various email file formats that can be thoroughly examined using the software. With the launch of the latest version of the tool, now, more than 20 renowned email file formats can be traversed and examined forensically. Some of the renowned email formats include: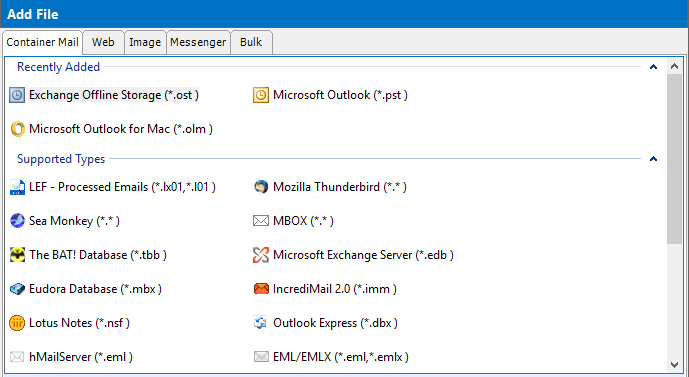 Investigate Mailbox of Web – Based Email Services
Web: The software works in a glean manner by allowing the investigators to go through the mailboxes of the web - based email services too. The emails of web - based email services such as Gmail, Google Apps, Google Apps Admin, Hotmail, etc. can be analyzed by using the tool. Some of the renowned web - based email services include: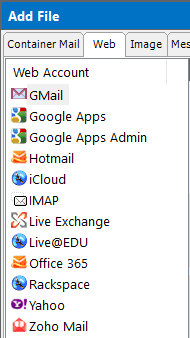 Supported to Schedule the IMAP Accounts
Tool provides the facility to schedule the IMAP email accounts. Intially, software loads the complete data files of accounts for analysation. After that, it will check the email account once in 24 hours for downloading newly arrived (delta) email data to the software for examination. This feature of the software gives option to stop this sheduling process.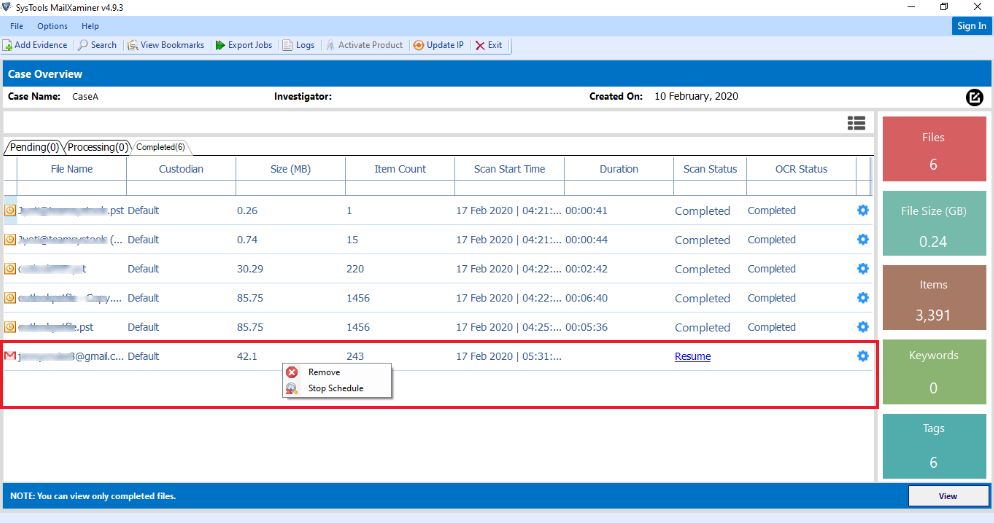 Stop IMAP Scheduling : At Case Overview screen, right click on the email account, for which the user wants to stop the scheduling process. Select for "Stop Schedule". Then a pop-up message will show to confirm the action. Click "Yes" to stop the scheduling.

Examine Multiple Image File Formats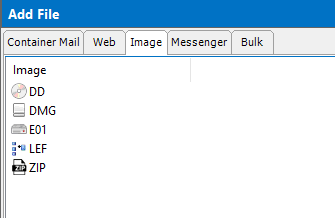 Analyze Email Files in Bulk
Bulk: The software allows you to add multiple files for forensic analysis, at a time. Under the Bulk tab, either you can add individual files, or browse the complete folder.

Analyze the Messenger Data
The software allows you to add Skype messenger data. Through which investigatore can easily analyze the Skype call, chat, SMS data without accesing the Skype account. The tool provide the option to import the Skype data through the ".db" file.
Add Email Data Files in Bulk
MailXaminer tool provides the facility to add a large number of data files into the software for analysis process. This feature helps investigators to examine bulk email files efficiently.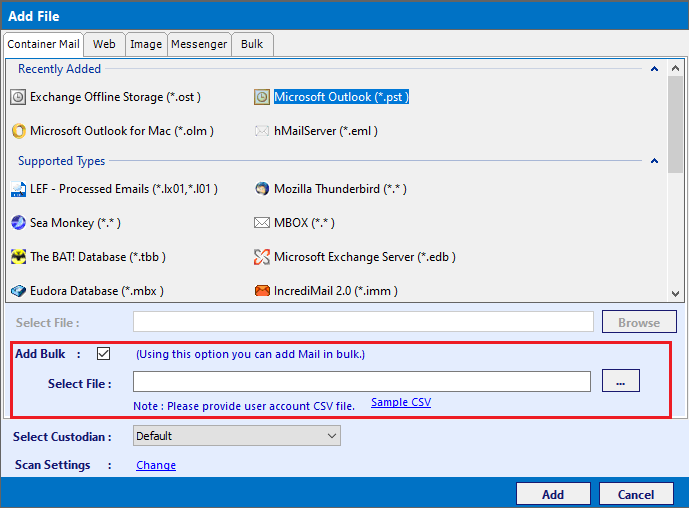 User can browse CSV file having extentions and path of files/folders to examine in a single go. This email investigation tool is reliable enough to investigate on large data files and extract evidences in hassle free way.