Dedicated to simplify email forensics with a result – oriented approach.
Being pioneers of data recovery, we have a great understanding of the anatomy of emails and carving information from email header data. With increasing expertize, we have precisely gained complete info about 20+ email formats. MailXaminer is being used by thousands of forensics professionals around the globe and thus, stands as a benchmarked email forensics tool; quenching each and every required need of email investigations.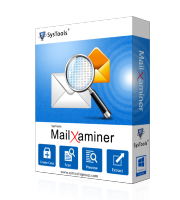 "Designed from the ground up, as an Email Examination Tool; MailXaminer supports 20+ email file formats and 750+ MIME types. Thus, leveraging the examination of 80+ email clients."

Salient Features of Email Forensics Tool
Agile & robust Keyword based Search filter to find the evidence from the email data instantly
Recover deleted email components & present the evidence in suitable formats that are acceptable in court.
Provided support to Search in Image(s) content with "OCR (Optical Character Recognition)" process.
Examine the email messages of iCloud, Office365, Rackspace, Gmail, Hotmail & Live Exchange Server.
Track connection among multiple suspects by making use of Intelligent Link Analysis mechanism.
The pornographic/obscene images available within emails can be analyzed using Skin Tone Analysis mechanism.
An Export Report comprising of detailed info can be generated in HTML, CSV & PDF file formats.
Manage the complete case as well as analyze the filtered evidence via creation of Case Repository.
The Team Collaboration feature assists multiple investigators to work on the same case in collaboration.
Analyze and investigate the data available within E01, DD, Zip Archived file, LEF and DMG file types.
Without dismounting/disconnecting the Exchange EDB file, investigate Live Exchange Server mailbox data.
Get complete information about available data within the suspect file via graph based Dashboard View.
View SHA1, SHA256 and MD5 Hash Value.
Added language support for search in Korean, Japanese, Chinese, French, Spanish languages.
Image geo location mapping facility to track the location from available image's EXIF data.
From the task of comprehensive mail viewing to a powerful search mechanism to carve evidences from emails; MailXaminer posses all those factors needed for a tool to be a perfect eDiscovery solution. With this email forensics software; you can scan, view, search, investigate, analyse, smart review and report huge volume of emails in a very less amount of time. The tool perfectly matches your e–Discovery requirements, thus, delivering a potential and well versed e–Discovery platform.
Examine almost 80 + different email formats or applications and migrate them to different formats like concordance, PDF, EML, MSG, PST, CSV and many more with the effective email migration capability of MailXaminer; an email header analyzer tool. We help you examine & migrate almost all web based or desktop email application; of which Gmail, Google Apps, Yahoo Mail, Office365 is the few names.
Being a platform independent solution, MailXaminer can be used to thoroughly investigate a huge set of email data ranging from Web based emailing applications to any desktop based email client. We have added the support for almost every format; which an emailing application supports and are commonly used. Added to this, searching feature has been made awesomely powerful yet simple to apply so as to carve the artifacts from the core of Terabytes of email data.
Whether you need to perform forensic email header analysis or examine its MD5 hash value; this tool fits your every requirement. By putting our years of experience in understanding the anatomy of emails, we have made MailXaminer a complete solution for the forensic examination of emails and generate an authentic report; which can be further produced in front of court of law. Besides viewing emails in HTML or RTF formats and reading email's property, attachments, body; features like team collaboration, sending file for review, bookmarking or tagging important mails for categorization makes MailXaminer a fully loaded email investigation tool.
Screenshots for Creation of a New Case
Screenshots for Various View Options
Screenshots of Case Management
Screenshots of Automated Search using Keywords
Screenshots for Exporting Email Forensic Evidence
Screenshots for Send For Review Feature