RECENT POSTS...
Read Latest News. Get Updates of Events Participated & Organized by us

Importance Of Encase LX01 File Format In Digital Forensics Investigation
Creative Team | December 10th, 2018
LX01 is the logical evidence file created by Encase Forensic Software with .lx01 file extension. It allows the users to store the smaller collection evidence file without

Open & Read MBX File Format In Email Forensic Investigation
Creative Team | December 7th, 2018
MBX file format is the high performance replacement for the MBOX file format created by Mark Crispin while at the University of Washington. It is much faster

Proximity, Fuzzy & Stem Search Methods In Digital Forensics Investigation
Creative Team | December 4th, 2018
Searching is the option provided by most of the Forensic software to improve the speed of finding the desired data and simplify the process. In this article,
Learn More...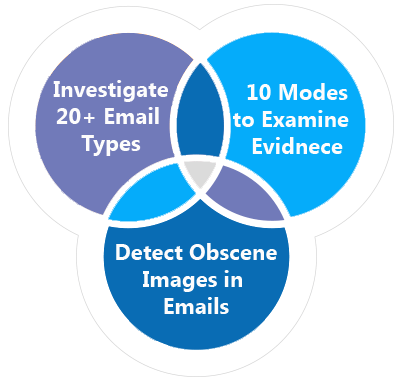 Email Examiner Software to Analyze Emails for Investigators with Speed, Accuracy & Ease
E-Mail Examiner offers a performance with speed yet accuracy, and is a proven, easy-to-operate email examiner program. With passing years, it has become the preferred choice of investigators belonging to reputed and significant law enforcement agencies nationwide.
Serving support for more than 20+ varieties of email formats and applications, the mail examination tool extends its support to an additional number of web based email services and remote messaging accounts (via IMAP). Thus, providing you with the freedom of conducting email analysis of just about any mailbox type.
What's More!
E-mail files/folders stored locally can be processed, despite of being disconnected from their respective clients. Additionally supported storage types include; external hard disks, and other media such as; USB devices or DVD, etc.
NOTE: Since the application is a standalone, files of any supported format or belonging to varied OS can successfully be read without support being required.
A Multidimensional — Mail Analysis Program
Apart from the software glimpse provided above, here is something more that the Mail examiner tool has in store for you:
High Dependency, due to the secure handling of data guaranteed.
Convenience of operation provided via a GUI resembling Microsoft Outlook.
Advance Search that quickly distinguishes relevant evidences particularly.
Time Reduction with advance search, quick scanning, and accurate analysis options.
However, there is more to email examination than this which makes it a complete email examiner application for investigators and experts from digital investigation department.
Powerful Email Analysis Features :
Advance Evidence

Advance Evidence Search Feature

Besides being able to handle large size data, this email evidence investigation tool also owns the expertise of conducting searches for particular evidence. Use any of the multiple search types provided as; General (with additional sub search types), PreDefined, Advance and Proximity and get guaranteed results. The search types are customizable, which gives you the choice to look for; a particular evidence, of a particular type, with particular criteria, using a suitable search type.

In addition to that, investigators can further save crucial search results for future use and/or erase the unnecessary ones, accordingly.

Multiple File Scan

Multiple File — Type Scan Supported

With support provided for multiple file types of various desktop based email applications, tool extends its mail data scanning capability to web mail clients and other remote accounts. The list includes some of the commonly used email accounts and applications like; Exchange Offline Storage, Microsoft Outlook, IBM Notes (Lotus Notes), Exchange Server, Gmail, Yahoo, IMAP, Hotmail, and many more.

Evidence Preservation

Preservation of Evidence

Acquired and examined evidences can be preserved in multiple file types for involvement in legal proceedings. Considering the legality of the matter, software provides preservation mostly in the legally supported and preferred file formats. These include; Portable Document Format, MSG, Concordance, CSV (only for header), etc.

Cloud Based

Team Collaboration & Cloud Based Review

Our team collaboration feature helps a team to work on a single case simultaneously and let them analyze the evidences related to a same case in real time. On the other hand; cloud based review feature has made mail examiner a robust tool through which it is possible for a reviewer to share its feedback or review the evidences irrespective of their geographical location; thus making the eDiscovery even more efficient.

Freeware Testing

Freeware Testing Version

Get to test the mail analysis tool with its freeware trial edition. All you have to do is submit your email address with us and a software demo download link will particularly be emailed to you on your account. The trial can be taken into use for a complete duration of 15 days to; test 10 files of 2 types each (up to 2 GB of size) and export 50 items.