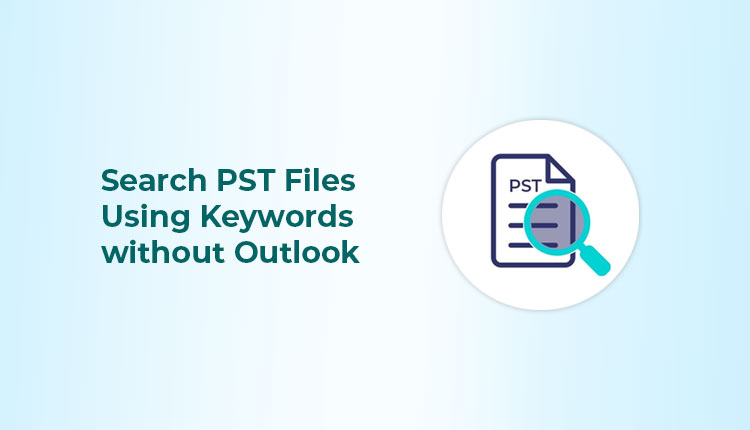 Overview: Many email forensic experts and law enforcement agencies have the need of a robust solution that can help them search inside PST files using keywords. This article discusses one such solution that offers multiple search types and permits users to load multiple PST evidence files without any hassle. Know more about the solution in detail below.
Microsoft Outlook is one of the most preferred email applications that stores/exports its data in PST file format. Since PST file stores almost the entire data of Microsoft Outlook, it is primarily used by email investigators to look and search for specific evidence within PST files. Moreover, if you have a certain set of keywords, performing email analysis becomes quite simple and effective.
However, this task is not as simple as it sounds if you have multiple PST files or don't have Microsoft Outlook installed in your system. Thus, a proficient Email Forensics Tool is required that can help you load multiple PST files into it and helps perform in-depth searches inside PST files using keywords.
Know more about the solution in the following section.
How to Search Inside PST File Using Keywords?
In order to perform searches within PST files, you need to use this most advanced software i.e. MailXaminer. This is one of the best solutions that enables you to add multiple email data files including PST files into the software. Following that, the tool performs thorough Indexing within the PST file and ensures that you can search PST file data using keywords.
The tool also comes with OCR (Optical Character Recognition) capability using which this tool can also perform searches within the attachments and images. Thus, if you are looking for an all-in-one solution, this is the perfect solution to help you perform searches within PST files without Outlook.
Along with OCR functionality, there are multiple search options as well that you can use to make sure you find the desired evidence without putting in additional effort. There are many other advanced features as well loaded in this application that makes it a one-stop solution for all email forensic investigators.
You can schedule a free demo with our experts and get to know more about our software in detail.
 Schedule A Demo
Highlighted Features of this Tool
This software allows searching inside the PST file without the installation of Microsoft Outlook Email Client. It provides the following features:
Facilitate multiple email views for the forensic analysis of damaged, password-protected & healthy PST files.
Dig into suspected PST files & search for the evidence by using specific keywords and various search algorithms.
The tool enables to create an evidence list with bookmarked selected emails & attachments.
The tool provides multiple searches based on advanced algorithms such as General, Proximity, Regular Expression, Stem, Fuzzy, and Wildcard Searches.
Multiple analytics options are available to perform systematic evidence search i.e. Timeline analysis, Link analysis, and Word Cloud analysis.
Provides OCR technology to examine textual data from image attachments in emails.
Its bookmark and tagging feature allows users to save evidential facts for further investigation.
A Guide to Search Inside PST Files Using Keywords
Step 1: Case Management
For PST file forensics, firstly user needs to add the suspected PST file into the software by creating a new case. If the user has previously created and saved any case, it can be opened to resume examination. On the other hand, Delete Case and Edit Case options can be used to modify any pre-existing cases.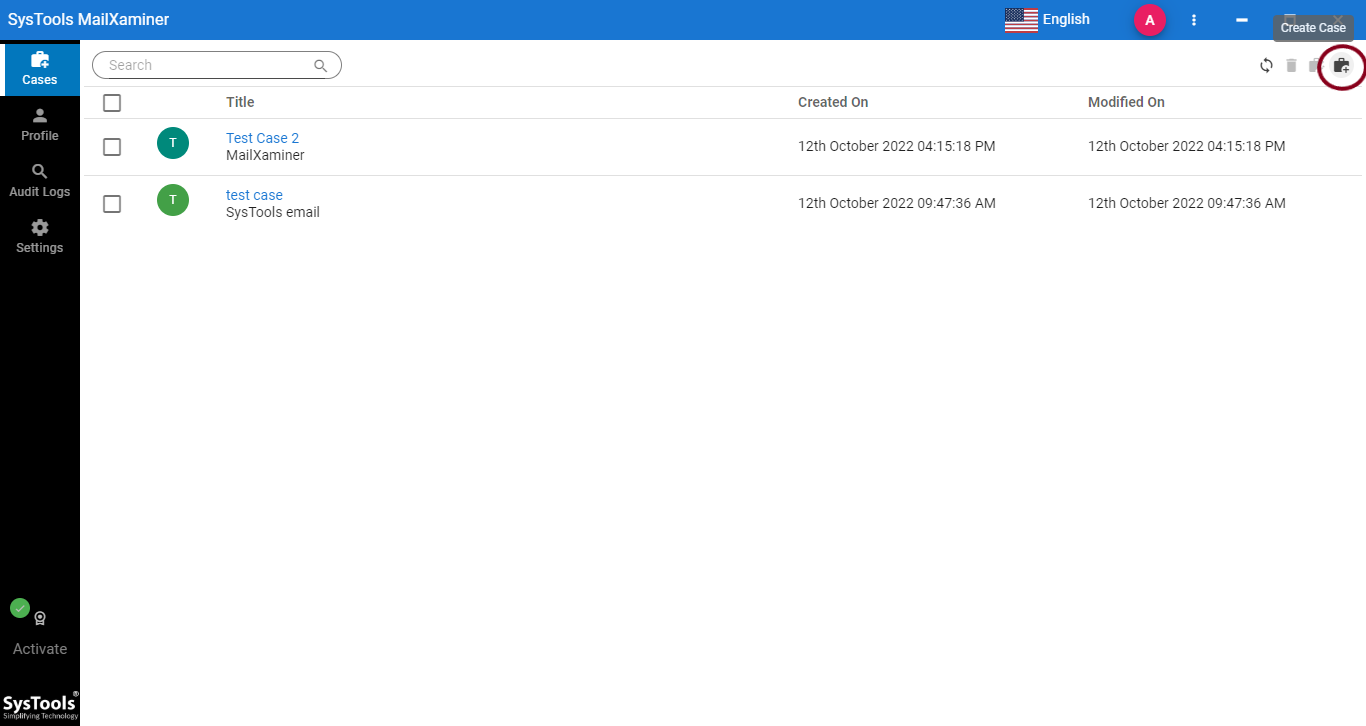 Step 2: Add PST File
To add the file to the utility, click on Add New Evidence button. A new window will pop up. Here, select Microsoft Outlook (*.pst) option from the Email Client options and browse the suspected PST data file to add it to the software.
NOTE: – User is not required to install Microsoft Outlook to perform any operation on Microsoft Outlook if the user is following this method.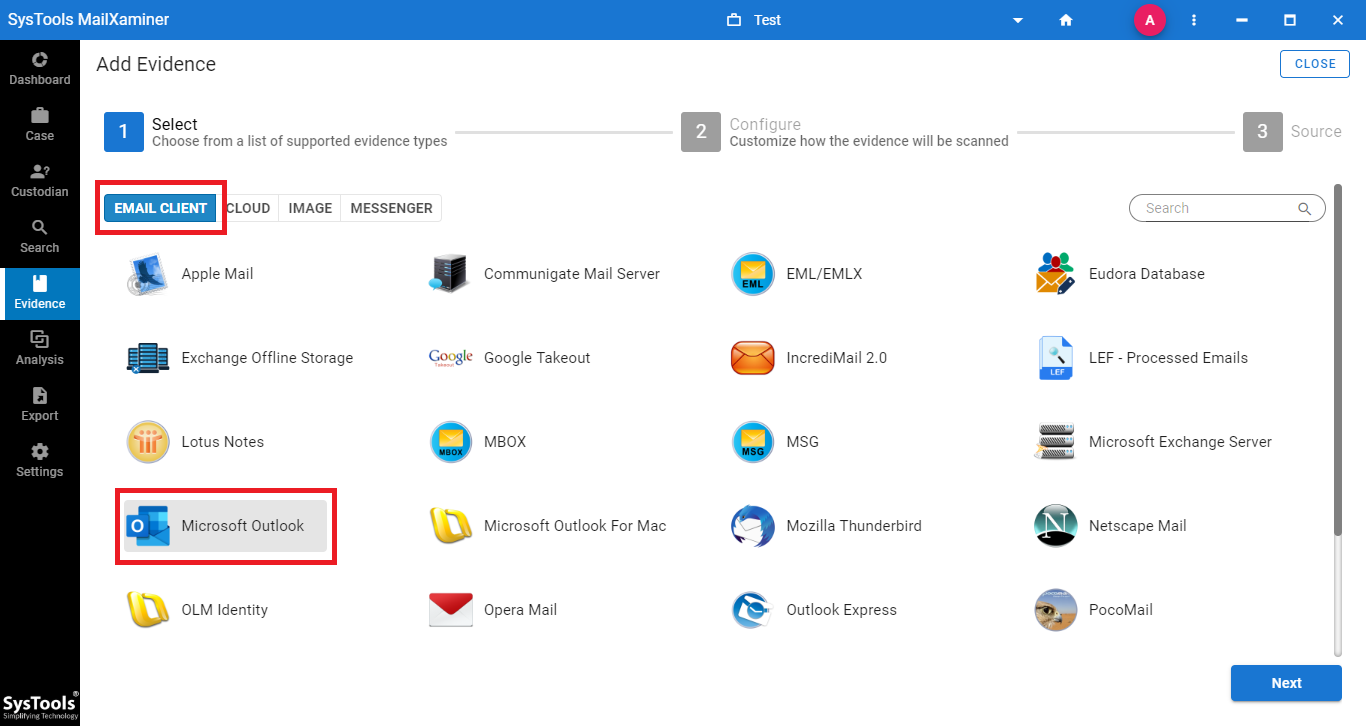 Step 3: Search Option
Once the PST file gets uploaded and scanned by the software, one can search inside PST files using keywords that too without Outlook to perform an in-depth investigation of the files.
For that, go to the Search section of the tool by clicking on the Search option, which is available on the left menu panel. It provides several searches based on advanced algorithms such as General Search, Proximity Search, Regular Expression, Stem Search, Fuzzy Search, and Wildcard Search. With the help of these search options, users can extract the required evidential files in a hassle-free manner.
You can visit the following link to know more about these search options.
– https://www.mailxaminer.com/guide/search-screen.html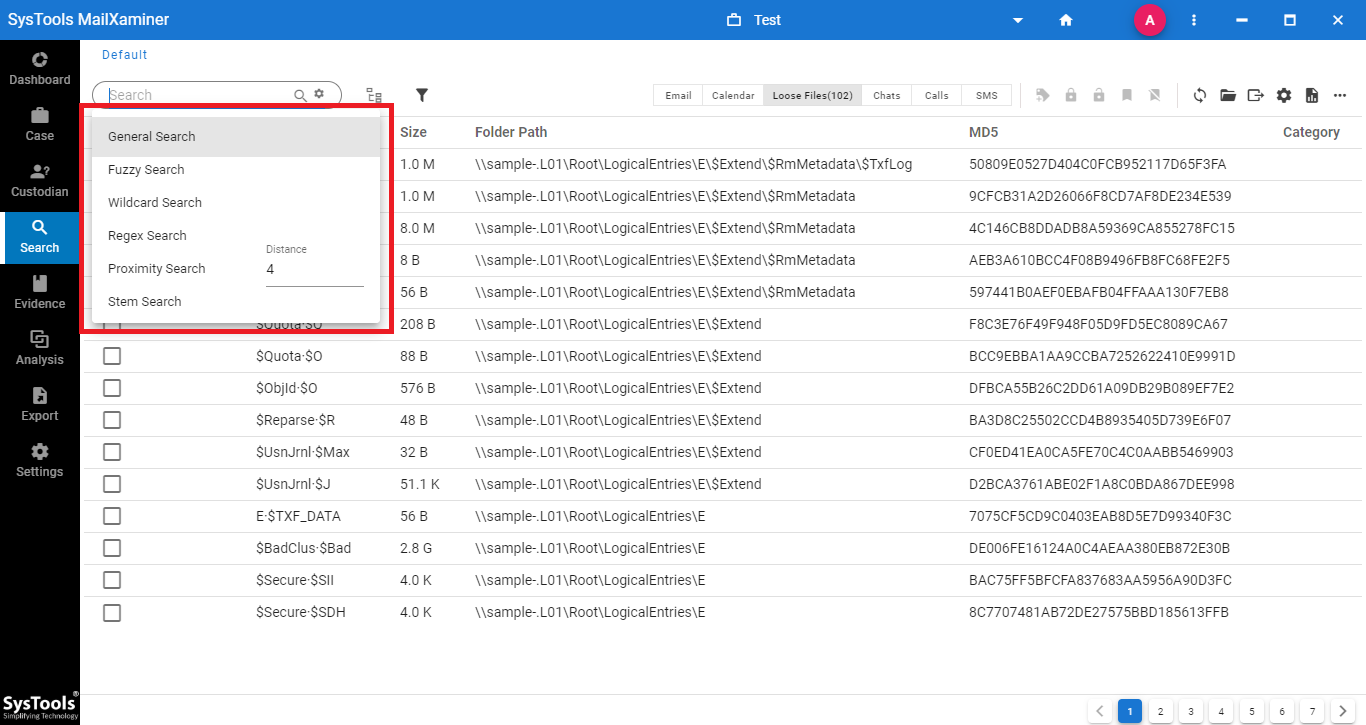 Step 4: Use Search Filters and Logical Operators
The tool provides options to customize the search by adding filters while searching for evidence in files. Use the Filters button and Logical Operators such as AND, OR, and NOT to search PST files using keywords.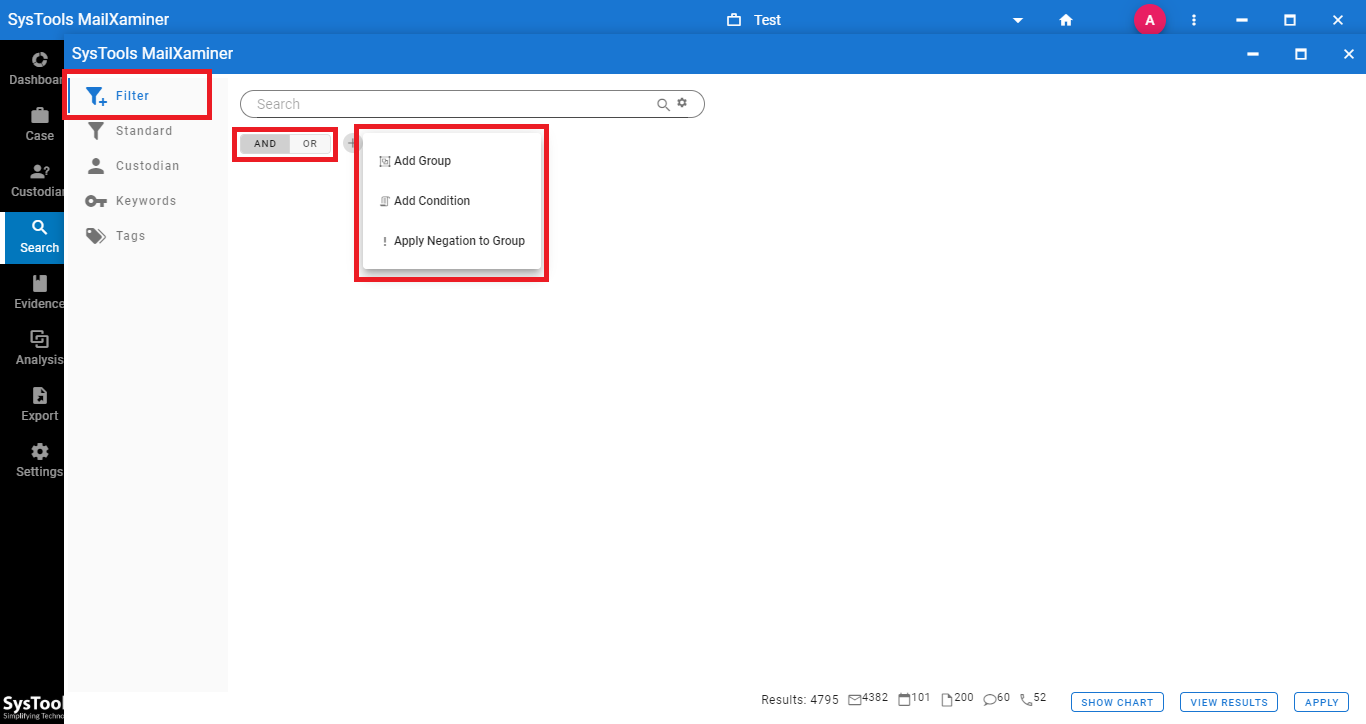 Step 5: Extract Evidence with Keyword Searches
In the Keywords section of the tool, users can instantly fetch the evidential files by providing related keywords. In this process, the tool automatically scans the entire email files and extracts resultant files which correspond to the mentioned keywords. Any number of keywords can be provided by the user in order to customize the search of evidential data.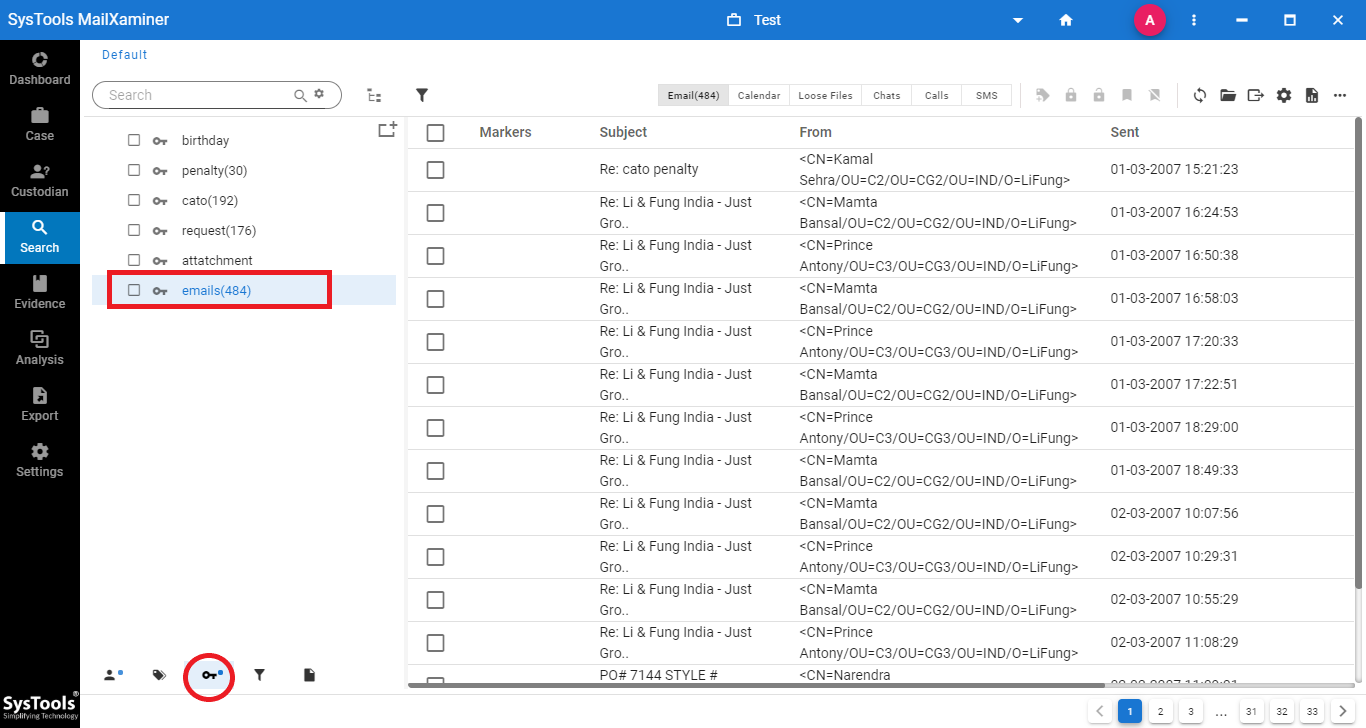 With more exploration of the available features, techies can search inside PST files without Outlook installed with this powerful software.
Conclusion
In order to perform forensic analysis of suspected Outlook PST files, one has to find the artifacts related to the occurred cybercrime. For this scenario, the above-mentioned software is most suitable. It is one of the most power-packed and super-fast software, which works with 100% precision because of its advanced functionalities. This forensic tool not only lets you search inside PST files using keywords without Outlook but also performs a variety of searches on data files to carve out the evidence in a detailed manner.