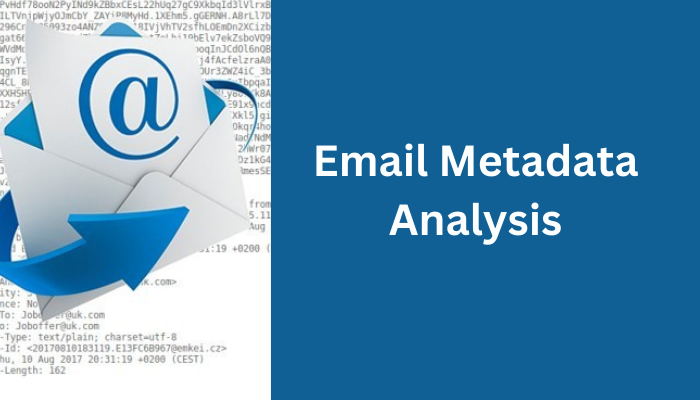 Summary email metadata analysis is so valuable in email investigations to uncover valuable insights and supports security measures. If you're also willing to know about the in detail how to do email meta data analysis then you have landed on the correct page. This blog explores the diverse benefits of investigating the hidden data contained within email headers.
The digital forensic investigator scans the relevant emails for evidence to investigate the cases related to cybercrimes involving the use of emails. Additionally, in an attempt to avoid detection, criminals often engage in message forgery.

This necessitates the involvement of email forensics experts to carry out precise email metadata analysis. Through this process, crucial evidence is collected and extracted to aid in investigations and identify the true origins of suspicious emails.
Now, let's understand the concepts related to email metadata—what it is and why the associated metadata holds such significance in email communications.
What Do You Mean by Email Metadata?
Email metadata documents all data related to an email routed to your inbox and more. This plays a crucial role in every email communication, serving multiple purposes, both informational and practical in nature.
Email metadata encompasses essential information about an email, revealing the invisible tags that are left behind during its journey from the sender to the recipients. Some key components of metadata include:
Email Headers:

Headers contain a wealth of details like senders and recipient addresses, subject lines, and the path from the email through various servers.
These can be found in multiple ways, depending on your email application. But, sometimes it becomes difficult to analyze them. If you want to know about it in-depth you can prefer the site Email Header Analysis.
Time stamps:

Timestamps reveal the exact time and date when the email was received and opened, offering critical clues for investigation. 

IP addresses:

They provide information about the origin and location of the sender, aiding in verifying the email's authenticity.
The Significance of Email Metadata Analysis
Email metadata can have varying importance, depending on the role. As a sender, you have to focus on deliverability and reputation. As an admin, you'll find valuable fields for configuring server rules.
However, as a recipient, email metadata acts as a powerful tool to verify email legitimacy, protecting you from spamming, phishing, and spoofing attacks.
Enhancing security: Cybercriminals often craft emails to trick the recipients. Analyzing email metadata allows security experts to identify faults, spoofed addresses, and signs of phishing attempts. By spotting these red flags, individuals and organizations can safeguard themselves against cyber threats.
Forensic investigations: During legal or criminal investigations, email metadata plays a critical role as digital evidence. Moreover, the email metadata becomes instrumental in tracing the origins of malicious or fraudulent emails, enabling law enforcement and cybersecurity experts to track down and apprehend perpetrators effectively.
Here, it's advised to look for the comprehensive software MailXaminer which is the most trusted software outfitted with advanced data recovery and email metadata analysis capabilities. This also enables digital investigators to efficiently and meticulously examine digital evidence. Additionally, this solution also delivers accurate findings according to your requirements in the gmail email forensic analysis domain.
Improving Deliverability: Any email metadata contains numerous details, allowing a mailbox provider to automatically identify the emails as fraudulent or legitimate.
Moreover, through an examination of the email's metadata, you may determine what security precautions to take to enhance your communications. This will help you deliver your emails to inboxes instead of spam folders. Improved deliverability is particularly important for individuals or organizations that send high volumes of transactional emails or email marketing campaigns.

Validating Authenticity: Email metadata analysis can verify the authenticity of the emails. Suspicious and malicious emails can be detected. This can also help you avoid falling prey to scams.
Furthermore, you can't reach the accused while analyzing the email address by just looking at the email metadata. It needs a special email metadata analyzer tool that is designed in such a way that it thoroughly examines and analyzes the email metadata( regardless of email clients) and has many more advanced features that have the capability of analyzing it at the same time.
Advanced Solution for Analysis of Email Metadata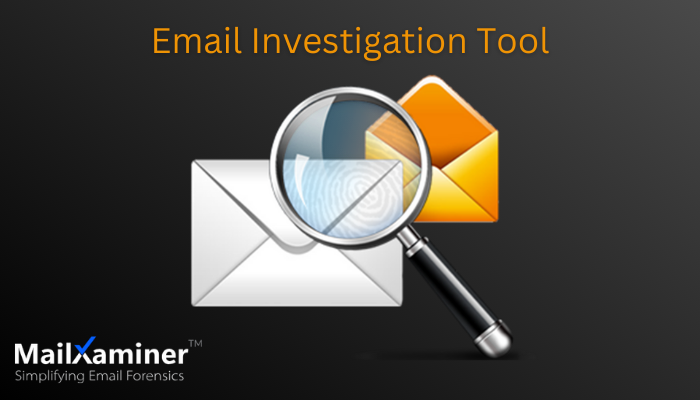 With the rise of advanced cyber attackers and the challenges involved in investigating email metadata, it is required to use an Email Investigation Tool that enhances the efficiency, accuracy, and completeness of email metadata forensics. Furthermore, with the help of this software, you can easily view all the components of the email metadata simultaneously. 
It provides detailed information about the MIME-Version, Message ID, Content-Type, CC, BCC, From, Sender, Address, etc. As a result, this advanced solution makes it simple to find the sender's actual digital traces.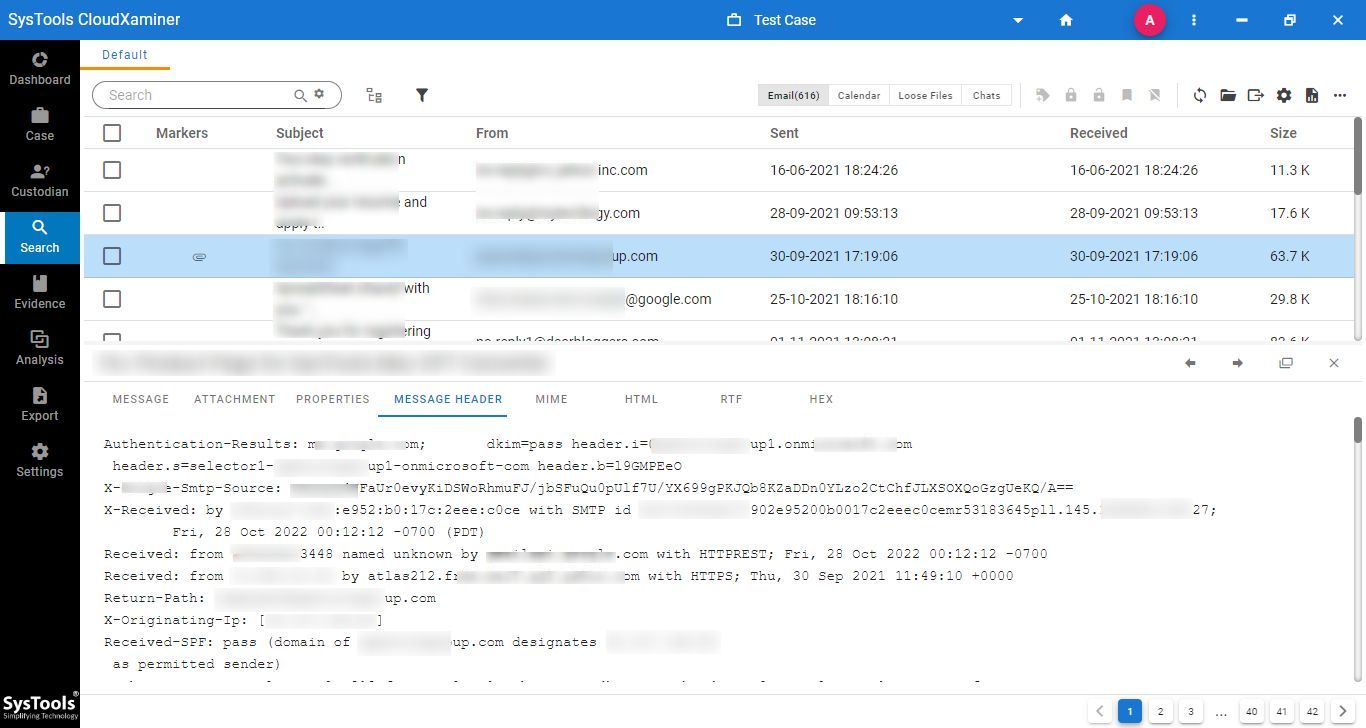 Why Should It Be the First Choice During Email Metadata Analysis?
An investigating officer faces several challenges in various forms. For instance, an email that is submitted for an investigation may not be in a readable format. Those email data might be corrupted, encrypted, or deleted from the data file. In that case, the need for the tool arises, through which you will be able to examine and investigate the emails accordingly.
Additionally, this expert's solution not only has expertise in analyzing email metadata but also has various advanced features, which are mentioned below:
Supports 80+ email clients like Google, Office 365, Hotmail, Rackspace, etc.
Examine image content with Advanced OCR Facilities
Advanced link analysis helps in tracing the connections among the suspects.
It has a powerful search mechanism through which you can have a specific keyword search option.
Word Cloud Analysis visual representation of the frequency of words used in email messages by variation in size. 
Examine evidence from the Bulk of email evidence through keyword search.
It has a user-friendly interface that allows all non-technical, semi-skilled, and skilled individuals to perform its functions.
Conclusion
Email metadata is a valuable practice that can provide significant benefits for businesses, investigations, and individuals alike. An advanced email metadata analysis tool is a game changer for forensic investigators. This enables the extraction of invaluable insight from email metadata, time stamps, sender details, and recipient information.
Moreover, this makes the investigation process smoother. This also unveils the crucial evidence through which the legal proceedings strengthen and also helps in cybersecurity assessment. Ultimately, this kind of professional solution gives ultimate justice and security to the digital world.
Next, you must read how to search keywords in Outlook with a few steps.