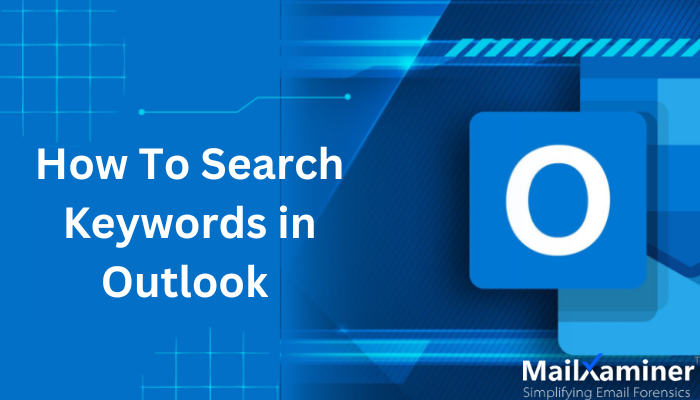 We all multitask a lot these days, and we rely on technology and software to help us with that. But when it comes to using email in Outlook, we want to find things quickly and precisely. If you're wondering how to search keywords in Outlook to make it easier, you can search for multi keywords in Microsoft Outlook, saving you from difficult digital searches.
Microsoft Outlook is one of the most preferred email clients which is primarily used by investigators to look and search for specific evidence. 
So, let us learn how to search specific words in Outlook effectively by using different solutions explained in this blog
How to Search Keywords in Outlook?
To search for a keyword, navigate to the instant search box in Outlook. 
Now, Query Commands come into use when you need to find emails quickly and you want to use numerous keywords. In Outlook, query commands will help you focus your searches.
Use the simple example: Go to inbox search and head to the instant search box and type in the subject type a keyword that you need to search for now. 

Let's say you're searching for the word "test" ( mentioned in the screen below) this will show every email that contains that word in the subject line.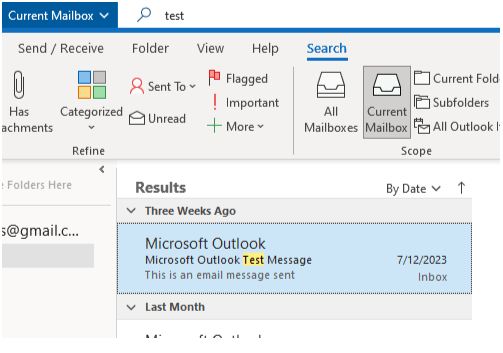 Now, these steps may sound easy, but the task is not as simple as it seems. Doing keyword searches in the mid of a forensic investigation must save time. So, If you have many PST files or don't have Microsoft Outlook installed on your computer, you need a specialized Email Investigation Tool. This tool is the perfect one-stop solution for the query of how to search for a specific word in Outlook. It will help you search through PST files using keywords and perform thorough investigations.
Use Advanced Method to Search Keywords in Outlook 
Sometimes it is required to conduct a clue-based search, which can be easily done with the keyword search option. In order to perform keyword searches in Outlook it becomes quite hectic. So, there is a one-stop solution that is used by thousands of forensic professionals around the globe for effective investigations.
To perform the keyword search in Outlook, you need to use this most advanced solution i.e. MailXaminer. This is one of the best email forensic software which enables you to add multiple Outlook email data files. 
This tool is designed in such a way that it offers an advanced keyword selection feature, which can assist you in finding a relevant term related to your search, such as how to search a specific word in Outlook. 
This exert's utility can efficiently search keywords from different files like PDF, DOCX, JPEG, etc. Also, it helps broaden your search and ensures you don't miss any important information. 
Let's understand this tool by starting with its powerful features
Advanced Features of the Tool
This software allows the searching of emails without downloading Microsoft Outlook. It provides some features which are mentioned below:
This tool allows the investigator to quickly and accurately search specific keywords within email data in Outlook

This makes it possible to produce a list of evidence that includes marked-up copies of particular emails and attachments. 

It has an advanced feature that validates suspicions and allegations by searching for the specific keyword related to the alleged activity. 

This tool also uncovers the communication pattern. Such that investigators can easily access the pattern, connections, and relationships among individuals along with the case. 

This tool provides multiple searches based on advanced algorithms such as general, proximity, regular expression, stem, fuzzy and wildcraft searches.  

This provides advanced

OCR reader facilities

to examine the textual data from images attached to emails. 
Step-by-Step Guide to Search Keywords by Using Advanced Solution
Install the software on your computer and follow the provided instructions, to set up the application
Step 1: Case Management
First, you should add the file to the software by creating a new case. If you have already created and saved a case before, then you can open it again to continue the investigation. Also, there are options present to delete or edit existing cases if needed.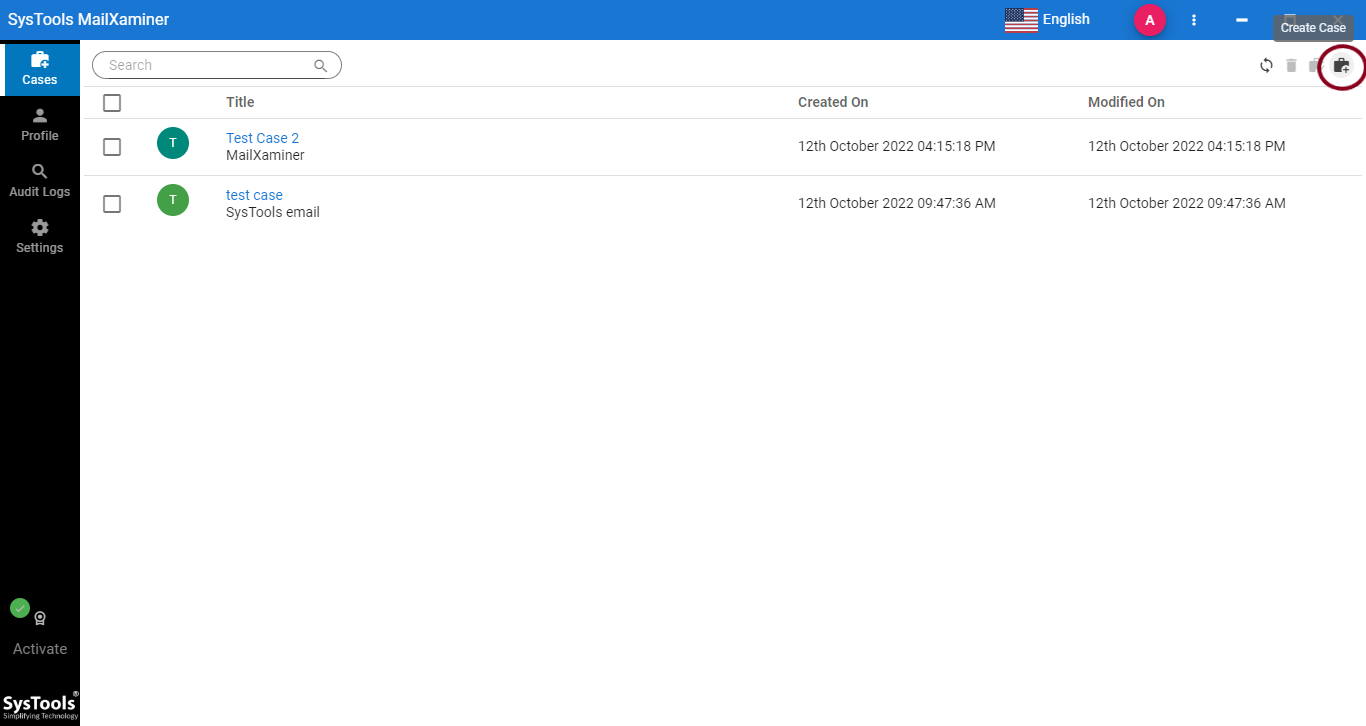 Step 2: Add the PST file of Outlook
Now add the PST file by clicking on the Add New Evidence Button. A new window will pop up. From here, select the Microsoft Outlook option from the Email Client options and browse the  PST data file to add it to the software.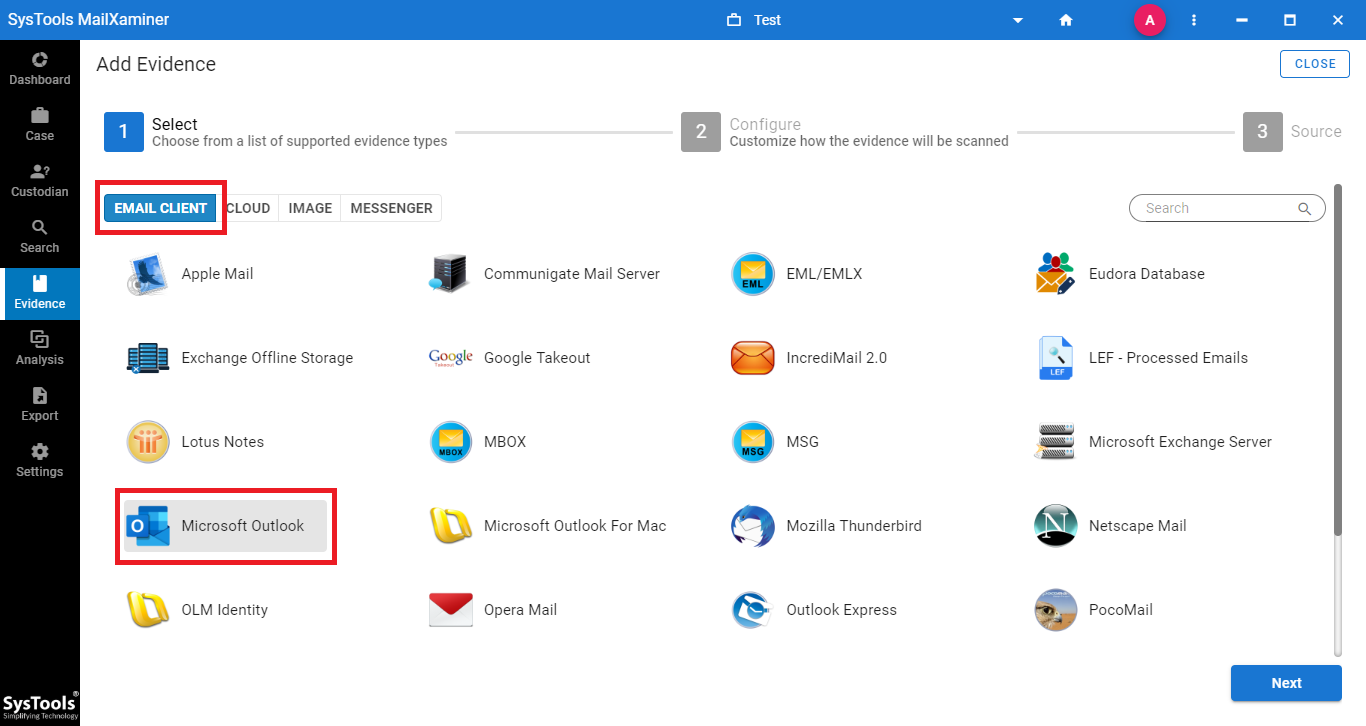 Step-3: Search Option
After uploading the file, you can look inside by searching for a specific keyword using the search option. This option helps you to thoroughly check the files in-depth. To do this,
First, go to the search tab on the left side of the tool.

There you'll find different ways to search based on advanced algorithms. With these search options, it will be easier for you to find the exact files you need.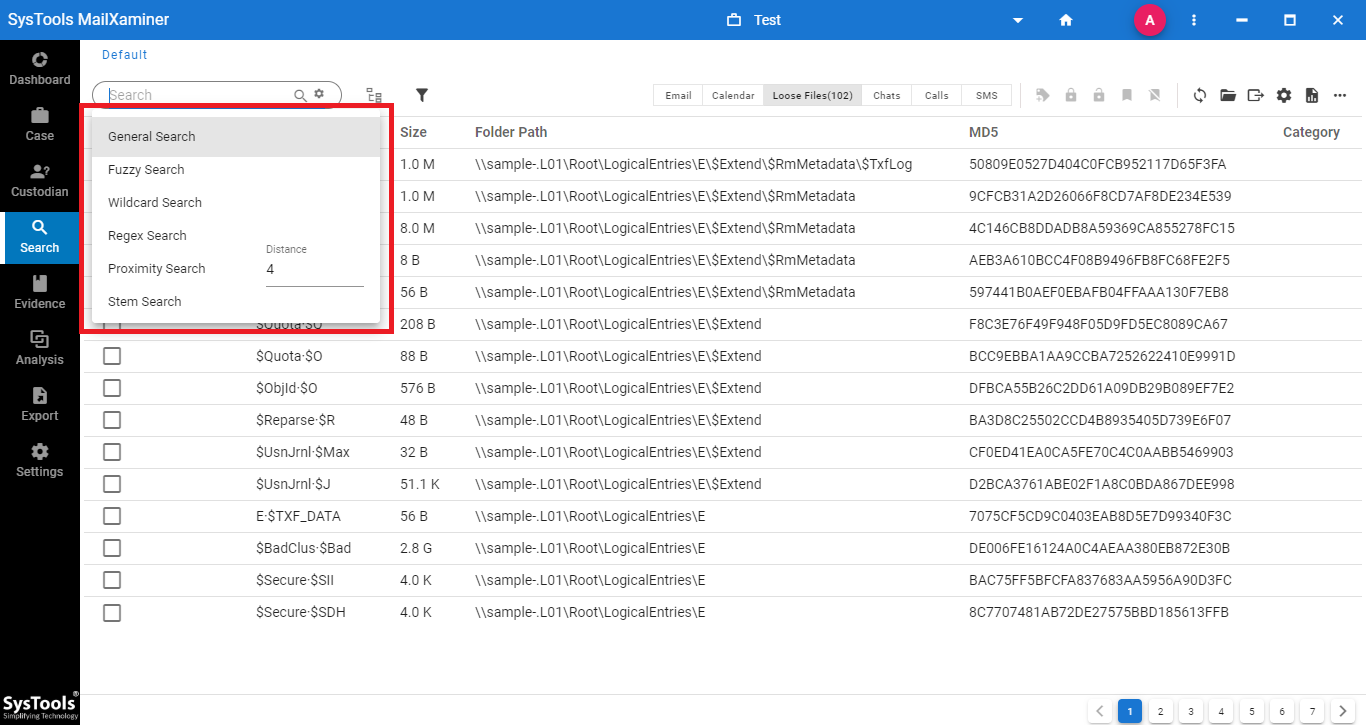 Step 4: Extract Evidence with the Keyword
In this section, this tool performs in such a way that it will look through all the email files and then pick out the files that match the keywords. 
You can search a number of keywords as you want to make the search more customized while searching for evidence data.  
After exploring all the basic functionality with lots of unexplained yet to be revealed, you can schedule a free demo with the expert's teams. Also, contact the team and get to know more about the software in detail. 
Final Words
Searching for keywords in Microsoft Outlook is an easy task but While doing an email investigation you need to get all the data in a well-synchronized manner. For that, you need to opt for an advanced solution. This solution will not only saves time and effort but also provides more accurate and comprehensive results, making them the preferred choice for efficient and effective searches in Outlook.  This tool offers an advanced feature for making your email keyword search experience more seamless and productive and seamless your communication efforts.