Extract Outlook PST Email & Attachment Header to CSV File Format
CSV (Comma Separated Values) is a file format for tabular data storage in plain-text form. CSV files can be manually created with text-editor or with end-user written scripts or programs which are managed using MS Excel or similar programs.
CSV File format also used in the digital forensic investigation to save header of mail files of the different email client. Since Outlook Emails Client is a popular email client used to message communication and stored its information in .pst file format.
In the Forensic investigation, the examiner needs to extract header file details such as "Source File, Folder Path, RemotEID" to find evidence, for that need to convert PST file into CSV file format. For this extraction process, a digital forensic tool known as Mailxamienr can be used.
Benefits Associated with Export Outlook Email Headers to Excel Process
Comma separated lists have any number of records in the table, separated by line breaks. Each record contains fields, usually separated by comma or tab & all records have a similar sequence of fields.
Human readable format & can be dealt with most of the existing applications.
CSV files are smaller in size & thus, easy to share header details across the network or web.
The large database can be transferred between programs.
Manual editing is possible in required cases.
Information is represented in a compact manner where column title is defined only once, unlike XML
Headers can be handled in a faster manner & it is easy to parse them.
Files are not limited to a particular character set & use sets like ASCII, Unicode, EBCDIC etc.
Extract PST Header Details for Selected Mails & Attachments.
Microsoft Outlook PST file can be view and examine using the Digital Forensic Tool. Through the export option of the MailXaminer, it allows converting PST file into CSV file format which contains the header details of the selected file. Follow the given processes to export the Outlook PST file into CSV file format.
Examine Outlook PST File
The PST file can easily open and examine through the MailXaminer. Which provides different views of emails, through which complete examination can perform accurately.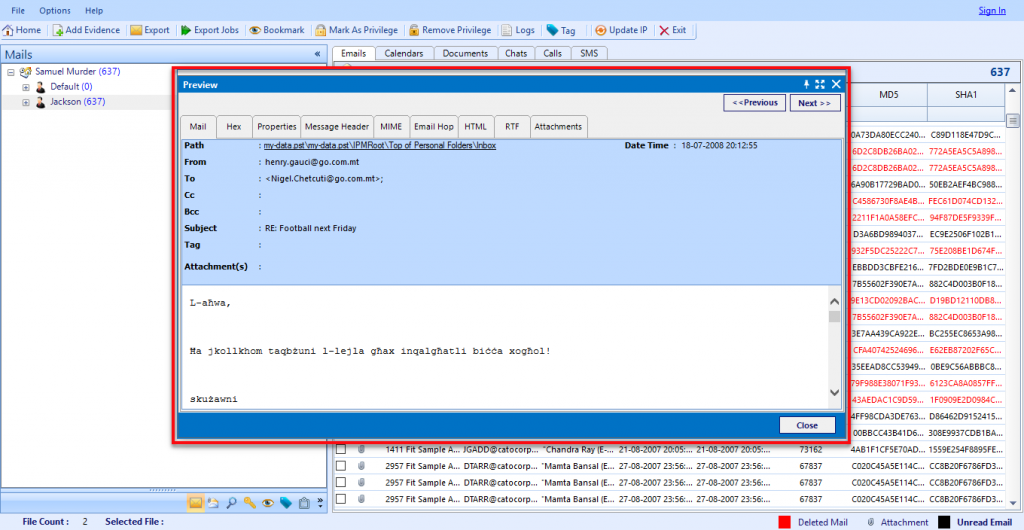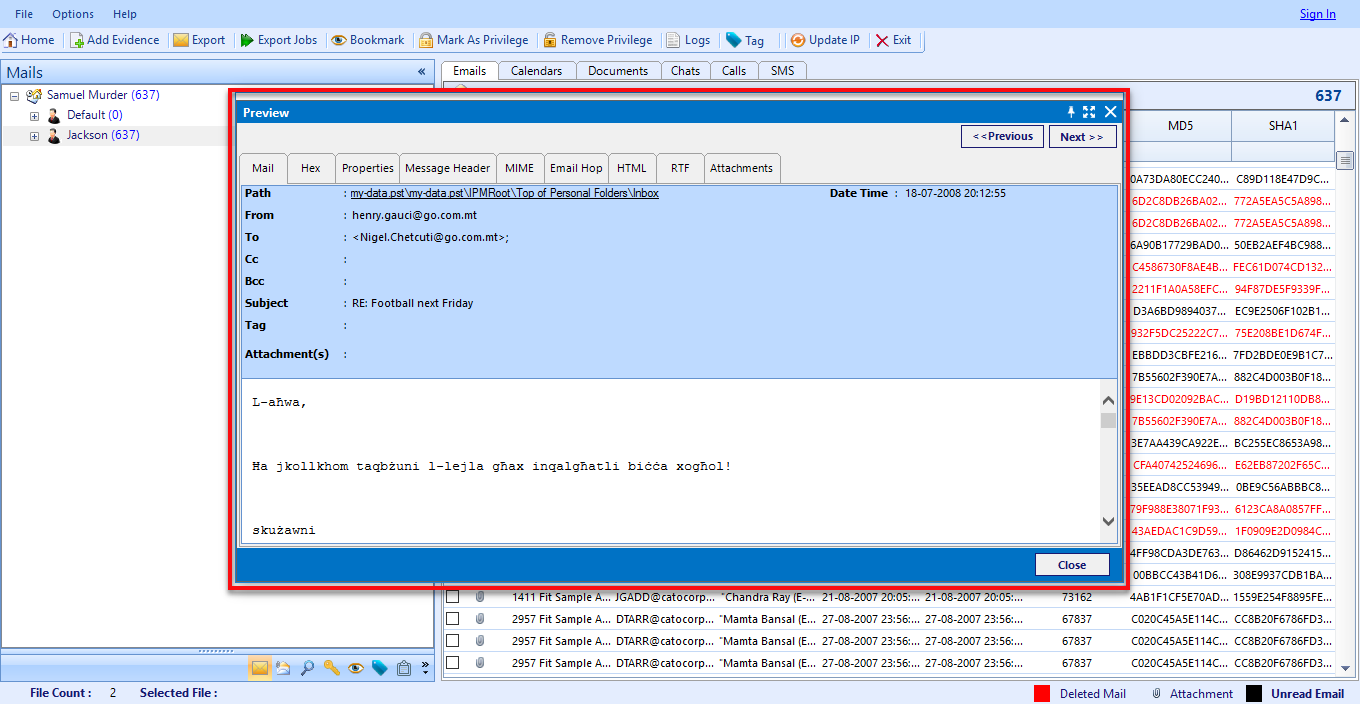 Selecting specific emails to export
MailXaminer provides the option to export the specific email header details into CSV format by selecting the desired email stored in PST file format.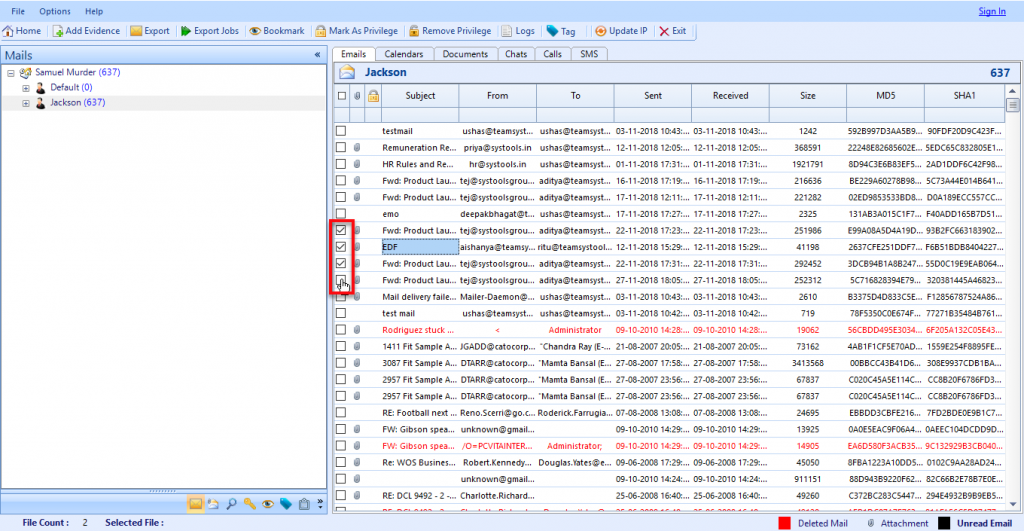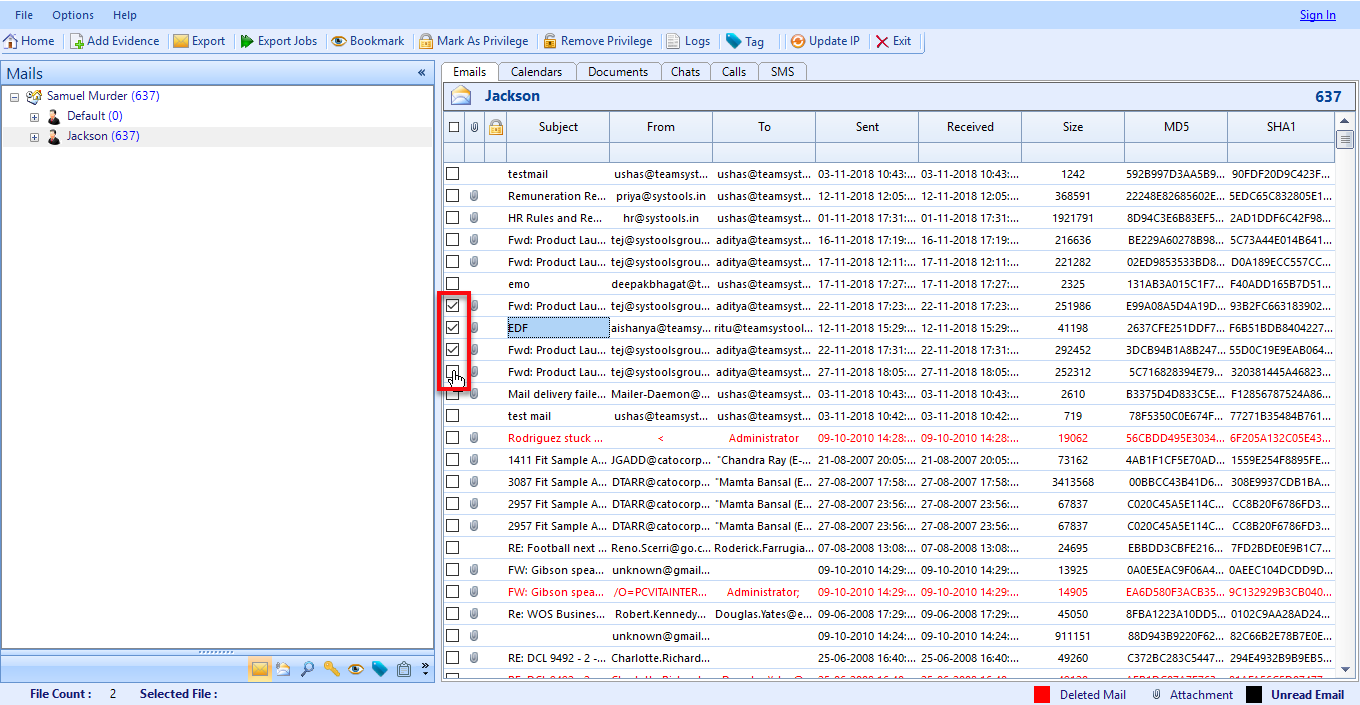 Export Option in MailXaminer
After selecting the Desired Emails file stored in Outlook PST File, now use CSV(only Header) option to export it.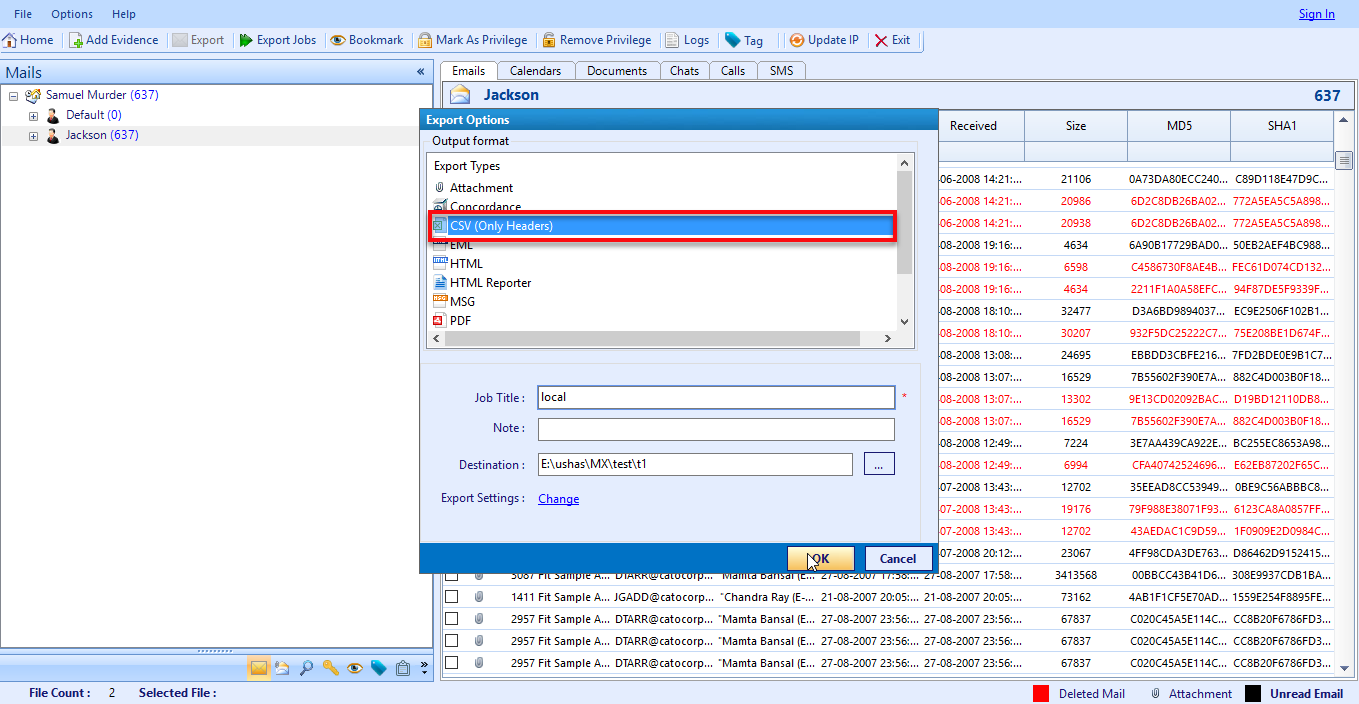 Convert PST to CSV with Entire Folder Selection
Export header details of the complete Mailbox folder items in a CSV file by using Export option provided by MailXaminer. Follow the processes given below to perform the export of entire folder of PST file into CSV file format.
Export Option in MailXaminer
Instead of exporting particular emails, some cases demand to export the entire folder. In such situations, MailXaminer provides the option to bulk export of data. It can be done by using the Export button in MailXaminer.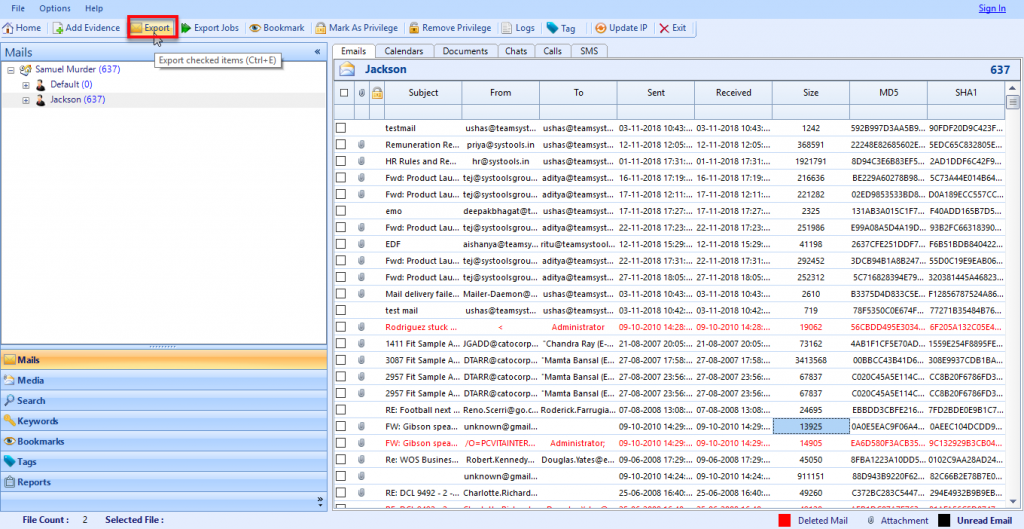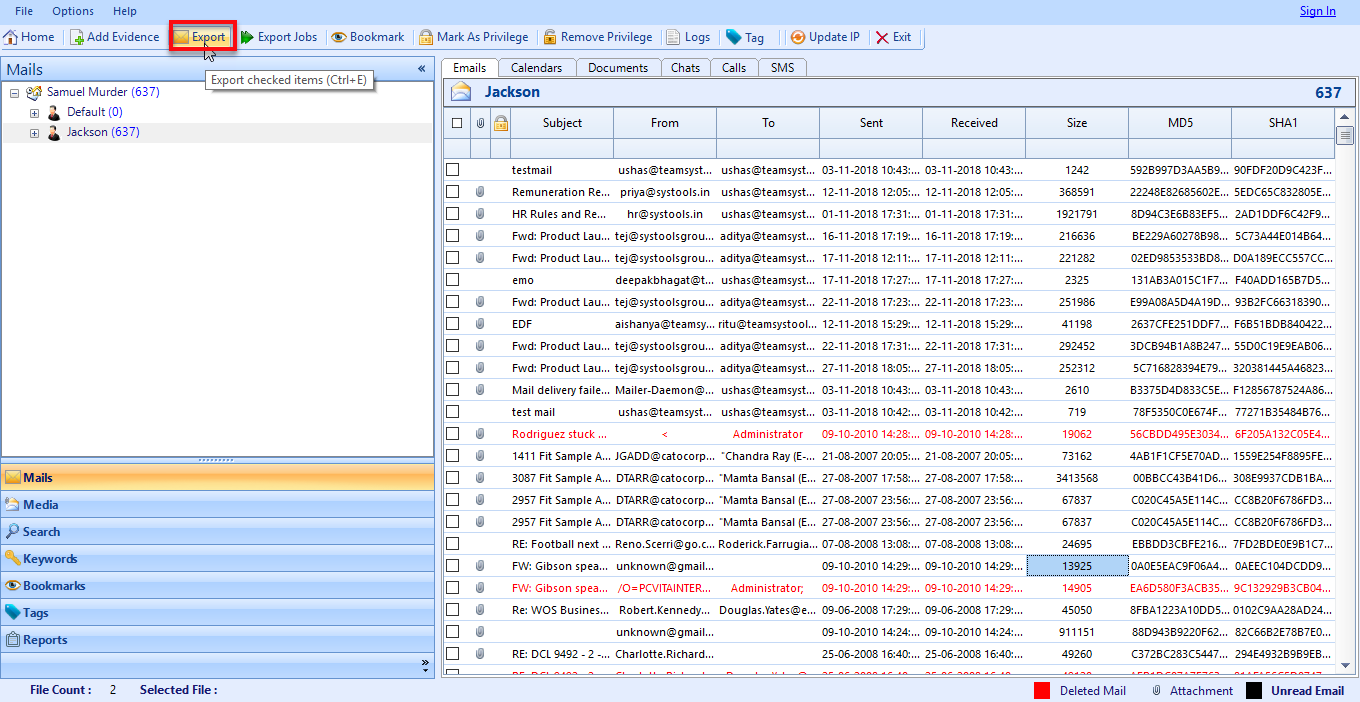 Save Complete Mail Folder Details in Bulk
For the conversion of a bulk set of Outlook PST file into CSV file format, folder selection can be done in MailXaminer. After selecting the Desired folders which contain Outlook PST File use CSV(only Header) option to export it.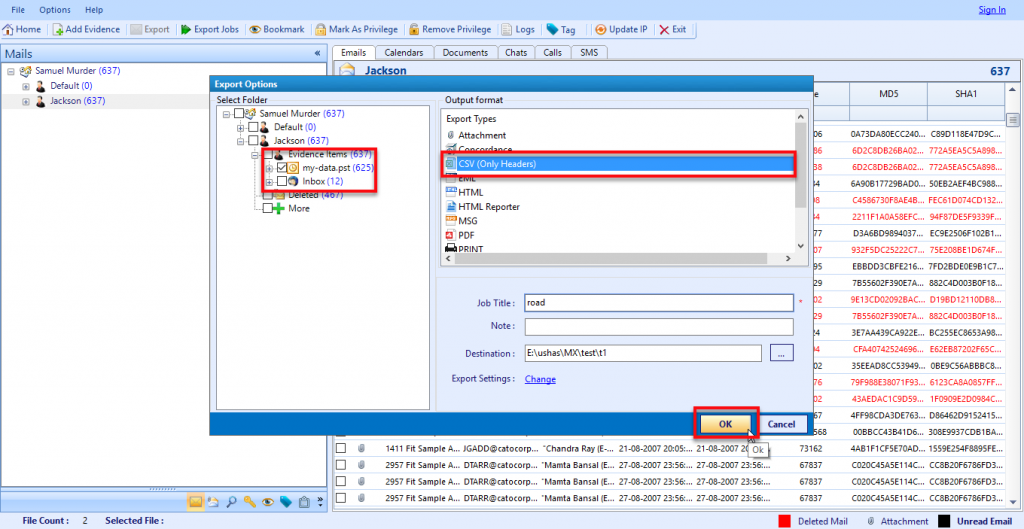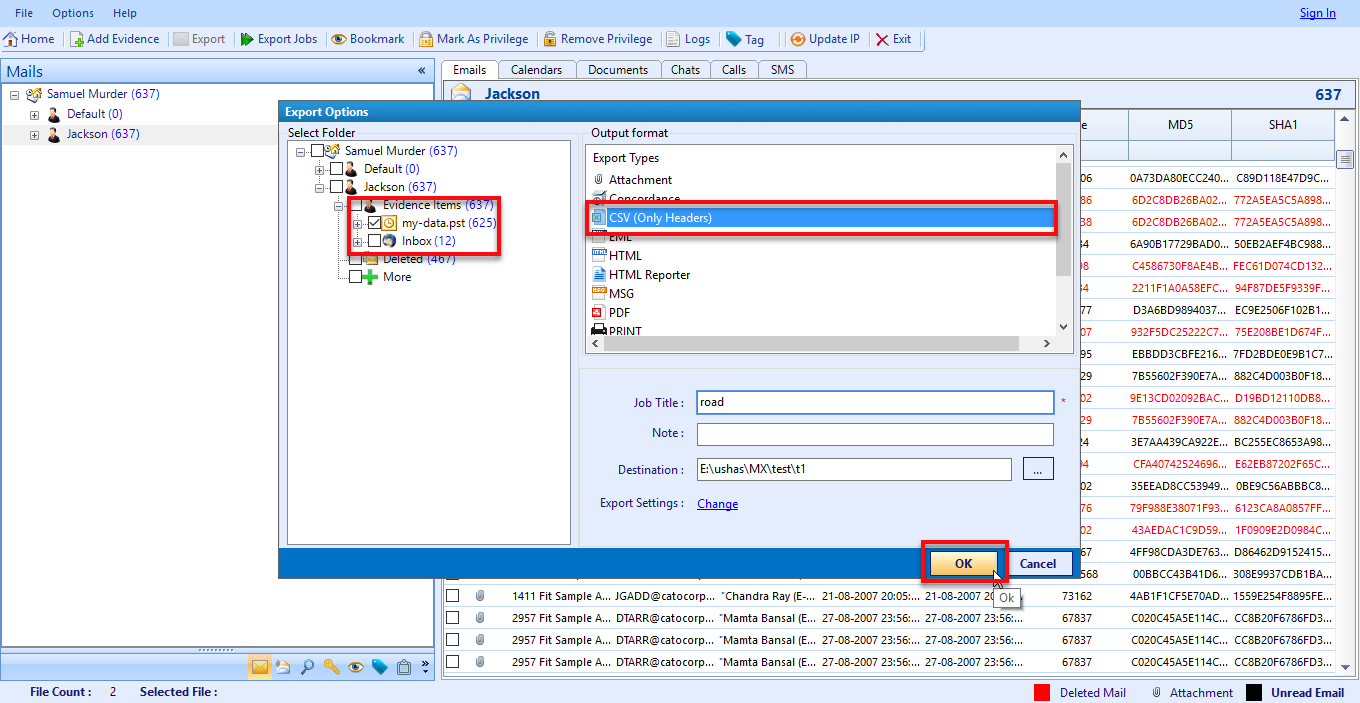 Export Emails Meta-Details
MailXaminer provides the additional features during the exportation of the file. When The Outlook PST file is Exporting as CSV file the tool provides the CSV header properties. According to the type of data inside the file like "Mail, Calendar, Chat, Call, SMS" the header properties also change.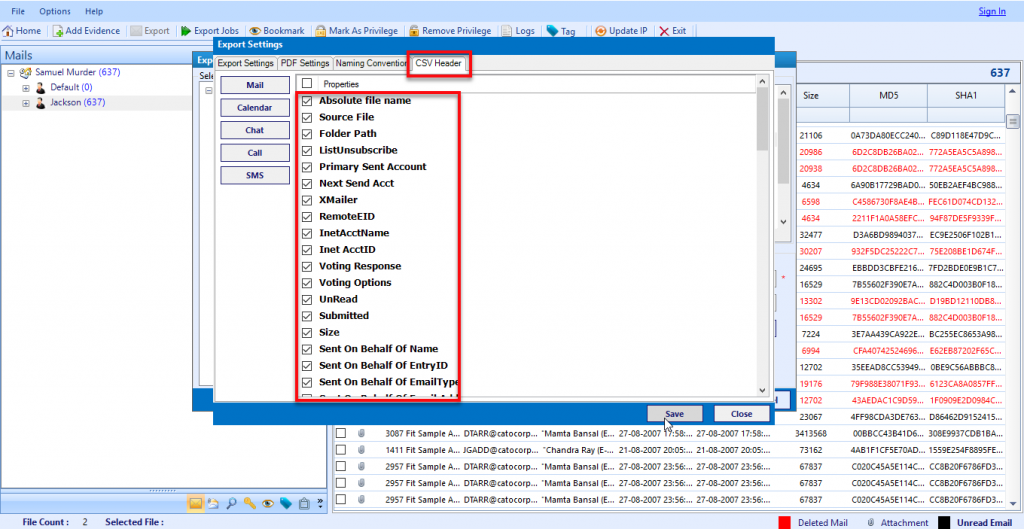 Resultant file View
You can open and view the resultant CSV data using any text editors, MS Excel or other similar programs from the saved location.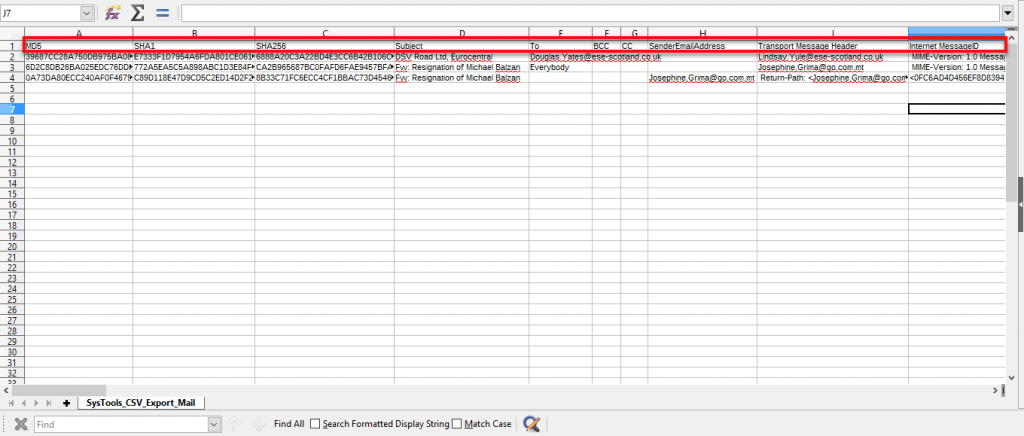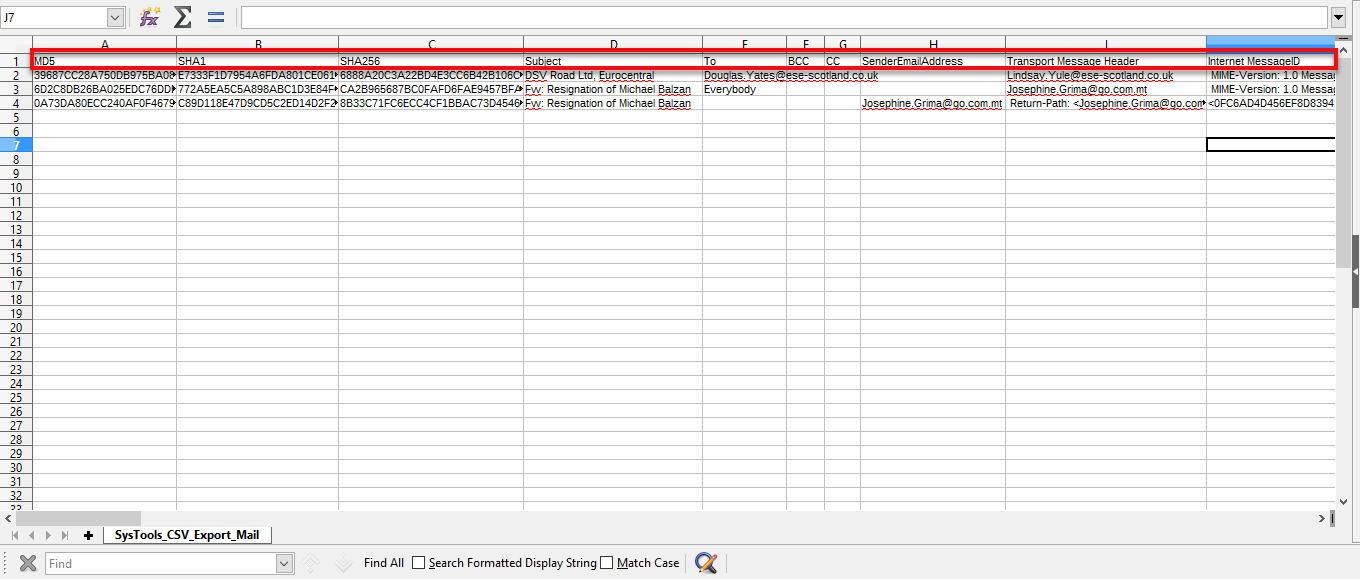 Conclusion
A CSV File format used to store the filed details in Plain Text Format and each value is separated via "Delimit and Comma". This File can be also used to stored Message Header details of emails stored in Outlook PST File format. To preview and extract these Details while forensic investigation, the examiner can use MailXaminer tool.